(Last Updated On: December 13, 2022)
Advanced Platinum P300 LED Grow Light has been steadily become one of the best manufactures in the LED Grow Light market. Having taken up indoor growing of cannabis as a pastime during my college days, I decided I needed a single all-encompassing grow light that wouldn't empty my pocket. Check out our review of the best led grow lights and grow tents for growing indoors.
Image
Title
Price
Prime
Buy

Top

Advanced Platinum Series P150 150w 12-band LED Grow Light - DUAL VEG/FLOWER FULL SPECTRUM

Prime

Eligible

Check Lowest Price

Top

Top

Advanced Platinum Series P300 300w 12-band LED Grow Light - DUAL VEG/FLOWER FULL SPECTRUM

Prime

Eligible

Check Lowest Price

Top

Advanced Platinum Series P450 450w 12-band LED Grow Light - DUAL VEG/FLOWER FULL SPECTRUM

Prime

Eligible

Check Lowest Price

Top

Advanced Platinum Series P600 600w 12-band LED Grow Light - DUAL VEG/FLOWER FULL SPECTRUM

Prime

Eligible

Check Lowest Price

Top

Advanced Platinum Series P9-XML2 855w 12-band LED Grow Light + CREE 10w XM-L2 w/ DUAL VEG/FLOWER FULL SPECTRUM

Prime

Eligible

Check Lowest Price
Prices pulled from the Amazon Product Advertising API on:
Advanced Platinum Series P300 Review
I found that the Advanced Platinum Series P300 – DUAL VEG/FLOWER SPECTRUM in particular claimed to produce a large amount of extremely focused light over a substantial area. Buying it on a hunch, I soon discovered that the claims were true, and my success since buying these LED grow lights has led me to contemplate shifting to commercial growing of marijuana.
Highest PAR Output Per WATT
The Advanced Platinum Series P300 is a full spectrum grow light that has 12 bands of spectrum that range from IR to UV wavelengths. In particular, the panel provides the exact wavelengths for photosynthesis that your marijuana indoor gardens require.
There is no wasted light or extra heat generated like MH/HPS grow lights. Furthermore, The panel produces 2 to 3 times the intensity of other brands with the same wattage rating.
PAR (Photosynthetic Active Radiation) a measurement of light intensity between the 400 – 700 nanometers used by plants for photosynthesis. Wattage is used by old HID systems were as LED grow lights are measured in PAR. This makes it easier to compare the light spectrum and light output between brands.
All Advanced Platinum Series have the highest PAR per watt ratio compared to other LED grow lights available.
Area Coverage
Speaking of area covered, the Advanced Platinum Series P300 achieves a remarkable coverage of 4.5 feet by 3.8 feet. This is all the more remarkable because on one hand, the panel itself is very compact and on the other, can be placed within 18 inches of the plants unlike normal grow lights.
You can find many kinds of grow lights that you could use within your DIY hydroponics garden. These are the high intensity discharge (HID light), metal halide (MH light), and high pressure sodium (HPS light). They are advertised for use in greenhouses and all kinds of indoor gardening.
However, LED grow light is already made available in the market and it offers a superior solution to lighting indoor plants than those which are previously accessible for use.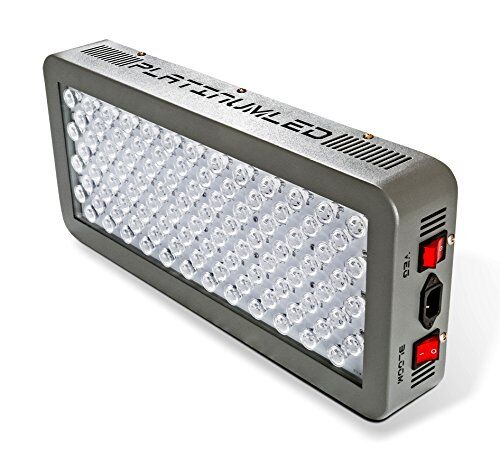 Weight
The LED grow light is lightweight as compared to most types of traditional grow lamps. It does not need ballast in contrast to HID, MH and HPS lights to be able to work properly. It does not need reflectors that can add bulk to the equipment in order to cast a large pool of light on the hydroponic plants.
Weight is a vital consideration because they should be suspended in some fashion over the plants. They should be regularly raised and lowered for plant upkeep like watering. They must maintain the ideal distance from the plants for optimum growth and yield. The LED lamp comes with built-in fans so there is no need for air-cooled reflectors and ducting.
Dual Spectrum
The Advanced Platinum Series P300 has the capability to change light spectrum at the flip of a switch. Hydroponic plants can develop best in varying light spectrum according to their stages of growth.
Blue light spectrum supplied by HPS lights is required by young seedlings to grow strong and sturdy stems.
Red and orange spectrums provided by particular HPS lights are required by mature plants once they are ready to reproduce and set fruit or flowers.
You'll be able to find HPS light bulb that can generate blue or red spectrum but you can't find this type to supply both spectrums. Experienced hydroponic gardeners will suggest that you need to have a combination of grow lights to have the perfect lighting for the plants. It is best to start out with one kind of grow lamp then you can change this as the plants mature.
Nevertheless, with the Advanced Platinum P300, you are able to use a single LED grow panel. With a one single grow light panel you will generate both the red and blue spectrums. The panel has two switches that are labeled Veg & Bloom that can be selected to maximize marijuana growth during the growing and flowering stages. Using both spectrums during the flowering stage of growth will create large and fuller buds.
Energy efficient
LED grow light is cheaper to operate in comparison to most grow light bulbs. Though the upfront cost is often more expensive, there will be a big difference on the cost of operating this type of grow light.
Superior LED lamps use only one eighth of the electricity consumed by HPS lamps in order to generate a similar amount of light therefore helping you save much money over the course of its life. Producers may also configure the tiny LED diodes in order that the lamp can provide light in a bigger area unlike the traditional grow lamps.
The option is clearer now on the kind of grow light to use for the hydroponic plants to grow and thrive in the garden. LED grow light is the perfect grow lamp for indoor marijuana garden lighting.
Extremely Bright for Marijuana Clones
Though the Advanced Platinum Series P300 is ideal for plants that need a lot of light, it may be difficult to moderate the amount of light such that lower intensities are produced. This requires the grow light fixtures to be attached higher than normal if the plants are in their early stages of growth.
Marijuana clones require much less light when started so you will need to slowly move the light fixture closer each day starting at about 3-4 feet away until they are ready for full intensity.
Wow, how time flies when you are having fun. I've had some great experiences with my cannabis horticulture project. I've got some nice plant production going, but I really like helping all of you that are thinking of getting into the hemp growing business.
As you know, I go on and on about how important the right hydroponic grow light will increase your production and make those plants gorgeous, which surely affects your production and the taste of your product. So today I want to look into another LED lamp and put it up for your consideration. Let's take a look at the Advanced Platinum Series P300w 11-band LED grow light.
Specifications
This is one of the newer models made in the Platinum series. It is a 400 watt HPS grow light replacement which is an ideal solution for areas of about 5 by 3 feet. In other words, a small to mid-size marijuana garden, enough to have a nice production.
The LED Grow panel is a nice money saver as it only consumes about 185 watts of power and gives your plants 100% usable light to get great photosynthesis and nutrition. One of the greatest features of the Platinum series is that it offers an optimal blend of light including UV and IR, which makes your plants incredibly beautiful.
The 3 Watt LED diodes also have a 90 degree secondary focusing lens which adds depth and range to the lamp and far outweighs much of the competition for the price. Plus it gives you some great customizing effects.
You can use dual light spectrums when changing from plant to flowering or seedling by simply turning on/off the second switch to lower or increase light and spectrum capacity.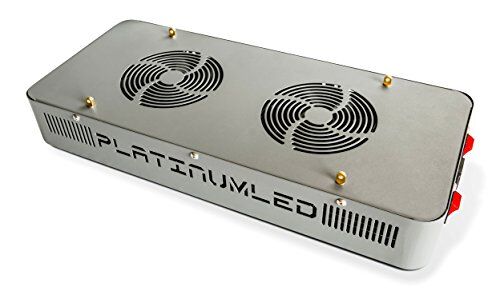 Specifications
Dimensions: 19×8.25×3 inches
Item Weight: 13 lbs
Replaces a 400 watt HPS/MH
Use for all stages of plant growth
Max Coverage at 24″ Height 4.5×3.8ft
Core Coverage at 24″ Height 3x2ftAvg.
Power Draw: Veg 93W / Boom 180W
100 x 3w High Output US MADE LED Diodes
LEDs Angle: 60° & 90°
Input Voltage: AC100-240V
Lifespan: 100,000 hours
What's in the Box
Reflector 300W
Hanging Kit
6ft Power Cord (US Standard 110V grounded 3 prong plug)
Bottom Line
I like that this grow light panel has two different selectable switches to intensify or soften the emitted light. The cooling fans draw air in from the side and out the top. This keeps the LEDs cool all the time and best of all this grow light panel is an energy saver and comes with a complete 5 year warranty.
The LED chips are replaceable when they burn out, so essentially, you'll get tired of this lamp before it's even time to replace it.
In my opinion you can't get a better brand than this. LED grow light covers nine square feet of space with the intensity of light that it can generate. It's also well suited for marijuana plants. The light produced is selected as a part of the light spectrum that plants can use throughout the process of photosynthesis.
Grow Room or Tent Setup
Compared to MH or HPS, LED grow lights can be setup in your grow room or tent within minutes of opening the box. There are three components included in the box (LED panel, hanging kit and power cord). As a comparison, an HPS comes with a bulb, light fixture, reflector, ballast and power cord.
Because of the extreme voltage and weight you need to be very careful when mounting the ballast. Water and electricity don't work together well so you should mount the ballast on a shelf to protect against accidental shock. Using an HPS bulb you will need to purchase a reflector if you want the light directed toward your marijuana plants.
Now for the Advanced Platinum P300 all you need to do is hang the panel with the included hanging kit and plug it in. It should take no longer that 30 minutes to setup the panel in your indoor garden. With the included hanging kit you can easily move the it up and down to maximize the light intensity for your plants as they grow.
Below is the recommended settings for your marijuana indoor grow room or tent.
| Growth Stage | Distance from LED | Switch |
| --- | --- | --- |
| Seedlings or Clones | 36-40 inches | VEG |
| Early Stage Vegetative | 24 inches | VEG |
| Late Stage Vegetative | 24 inches | VEG & BLOOM |
| Flowering | 18 inches | VEG & BLOOM |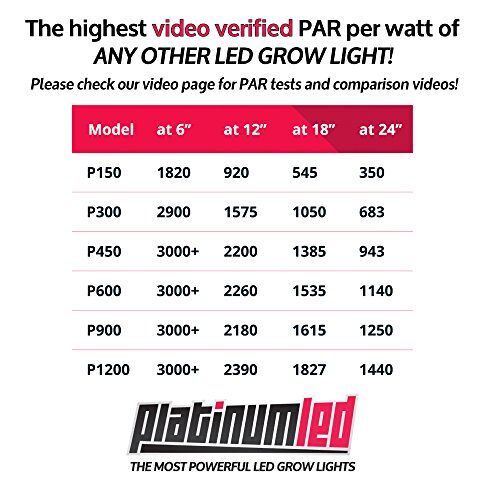 Warranty
The Advanced Platinum Series P300 comes with an no questions asked 5 year warranty. There is no need to register either as each grow light panel has an individual serial number associated with it. The 90 day satisfaction or return guarantee ensures you are totally happy with your purchase.
They stand by their product like no other company. My experience has been so good I would never consider returning it. All Advanced Platinum Series Grow Lights are build in the USA. Quality only available from USA built Grow Lights.
PROS
Full Spectrum
Veg/Bloom Switch
Highest PAR output per watt in the industry
Best USA built panel on the market
Excellent Warranty
24/7 Support
CONS
Daisy-chain incapable
May be too bright for clones
Final Thoughts
The Advanced Platinum Series P300 Full Spectrum LED Grow Light is by far the best Full Spectrum grow light for your small to medium indoor marijuana garden. You can easily expand your indoor garden by adding more LED panels.