(Last Updated On: December 11, 2022)
If you are growing cannabis, you probably know that normal light is good enough, however, the VIPARSPECTRA PAR1200 provides the perfect balance of light.
See Also:Best LED Grow Lights
The VIPARSPECTRA dimmable series PAR1200 promises to deliver this type of light source. It's considered one of the best grow lights on the market.
Photosynthesis process of your plants and vegetables needs specific unique light spectrums in order to supplement the growth of your plants. That's why LED grow lights are popular. Their main goal is to provide unique light spectrums I've mentioned earlier to the plants, as it's one of many important factors in plants growth.
That's why in this post I will review one of the best beginners and mid-tier LED grow light, VIPARSPECTRA dimmable series PAR1200. They're really affordable and you also get a 3-year warranty.
On top of that, if you aren't satisfied with the LED grow light, you will have 30 days to return it back with full money refund.
BEST VIPARSPECTRA LED GROW LIGHTS 2021
Image
Title
Prime
Check Price on Amazon

Top

Top

VIPARSPECTRA 2020 Pro Series P1000 LED Grow Light, with Upgraded 300pcs SMD LEDs, Sunlike Full Spectrum and Dimmable Function for Hydroponic Indoor Plants Veg Flower (Actual Power 100 Watt)

Prime

Eligible

Check Lowest Price

Top

VIPARSPECTRA 2020 New Pro Series P1500 LED Grow Light with Upgraded 450pcs SMD LEDs, Sunlike Full Spectrum and Dimmable Function for Hydroponic Indoor Plants Veg Flower (Actual Power 150 Watt)

Prime

Eligible

Check Lowest Price

Top

VIPARSPECTRA PAR600 600W 12-Band LED Grow Light - 3-Switches Full Spectrum for Indoor Plants Veg and Flower

Prime

Eligible

Check Lowest Price

Top

VIPARSPECTRA PAR450 LED Light Plant Growing Lamps

Prime

Eligible

Check Lowest Price
You'll be impressed with the performance of these LED lights. The engineering of the lights has perfected the light spectrum necessary for your plants to go through the desired photosynthesis. This ensures that all your plants grow healthy and even beyond what they would in a natural setting.
Light Emitting Diodes (LED)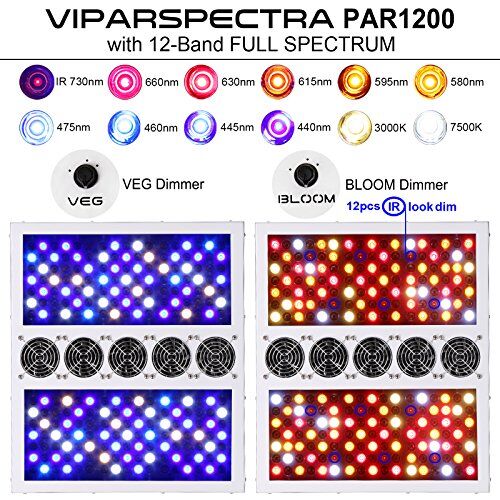 The VIPARSPECTRA dimmable series PAR1200 is configured with 240 red, blue and white 5 watt Bridgelux/Epileds diodes which are dimmable. Be sure to use eye protection as the panel is extremely bright. There is a secondary optical lens that will magnify the PAR output, increasing your canopy penetration up to 200%.
Designed to keep the balance of the PAR/Lumen output and coverage. It's optimized to provide the plants full spectrum in order for plants and vegetables to grow in all stages with everything they desire from natural sunlight.
Energy Efficiency
Power consumption of the VIPARSPECTRA dimmable series PAR1200 is only around 549 watts. It is ideal for a 4x4ft grow tent. One of major features of this panel is that it is dimmable, giving you complete control on the exact spectrum of light your plants require. The Blue and Red Spectrum is adjustable.
It's compared to the traditional 1200 watts while it only consumes around 549 watts. That plays a huge role in your electricity bill, however, VIPARSPECTRA took care of it. While it's making sure that your plants have everything needed in order to grow in all stages, it will still save on power so you won't need to worry about the electricity bill.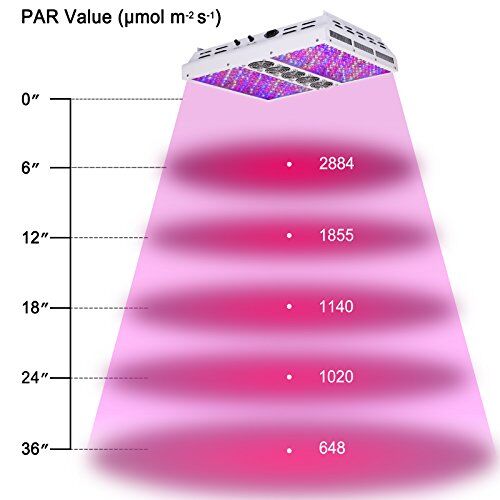 It's perfect for in-house plant grow as it doesn't take a lot of space. It's designed and is perfect for the 4×4 growing area at 24″ height. It's going to cover max 5×5, but you can combine as many LED grow lights you need. Simply measure your grow area so you know how many LED grow lights will be needed to cover it all.
Heating won't be the problem since it's equipped with 5 x 3.2″ fans and it has a big aluminum cooling heat sink which is designed to dispose of heat quietly and effectively.
With this LED grow light, you will notice an increase in quality by growing bigger flowers.
VIPARSPECTRA LED's are a combination of Bridgelux and Epileds LEDs. They're manufacturers who produce quality chips and they use chips in the range of 730nm (Infrared) to 7500K.
Thanks to these LED's with quality chips, you'll be able to grow your plants and vegetables at any stage indoors. However, I would highly recommend you to adjust the lights exposure to seasonal changes to mimic the natural light. To do so, I would recommend you to give your plants more light at the beginning of the growth process and then gradually less as you go through the process.
Another good thing about this LED grows light is that it gives you the ability to turn off different colors of the spectrum. Sometimes it's really necessary to have this option so you are able to manipulate the types of light your plants need. You will be able to give a different spectrum of light at different grow stage during the process thanks to the switches which allow you to reduce the red light and increase the blue light, and the other way around.
In my opinion, it's important to have a full control of lights in order for your plants to have a full potential during the growth process. VIPARSPECTRA provides that, and even it's on a cheaper side, they've really thought it through and added some really good features.
Specifications
Input voltage: AC 100-240V
Maximum coverage: 24'' at a height of 5×5ft
Core coverage: 24'' at a height of 4×4ft
Average power drawn: maximum 549W
Lens angle: 90°
Frequency: 50-60Hz
Lifespan: 100 000 hours
Kit Includes
One PAR1200 LED Panel
One hanging kit
Two adjustable YOYO hangers
One 6' heavy-duty power cord
Warranty
The best part of the VIPARSPECTRA dimmable series PAR1200 is that it comes with a standard warranty of 3 years plus 30 days satisfaction or return guarantee.
Pros
Really affordable, low cost for budget minded growers
Lights are extremely bright thanks to the LED's used to produce PAR1200. Also, you won't need to worry about any ballast because you will be able to use the timer to control it.
It provides full spectrum for growing period thanks to the 1200 watts reflector. Although it'll consume only up to 549 watts max, so you won't spend as much on electricity bill as you would with LED grow lights from other brands.
It's a great LED grow light for beginners and medium tier growers. LED bulbs aren't that expensive as they usually are since the ViparSpectra is manufacturing them and selling them themselves rather than selling them through a wholesaler or distributor.
You will get a 3-year warranty in case you have a trouble with the LED grow light, and you will have a 30-day money back guarantee if you aren't satisfied with the product. However, if you have experienced a problem during first 30 days, the problem will be repaired at no additional cost, or you will be given a new LED grow light.
This light is perfect for indoor plants growth and it's perfect for adjusting the lights to the seasonal changes. In order for the plants to receive light in as much as the natural way.
6 cooling fans will make sure that the LED light reflector is as cool as possible. It's still a 1200 watts unit, so it's not strange to see many fans and two cooling techniques combines for the best result.
Cons
As there is always some kind of concerns with any product, it's the same with this one. There are some minor concerns which aren't causing any major problems.
There are complaints that the rear of the lighting system does get hot. Manufacturers claimed that such thing won't happen. However, in my opinion, it's not such a big problem as you will always have some kind of heat from any kind of lighting system. In other words, it's unavoidable.
Another thing that consumers were complained about was the power it produces. The manufacturer claims it produced 1200 watts while some of the customers said it's more likely producing around 900 watts. However, there are many different factors which might cause such problem. 900 watts is still a powerful lighting system and the difference is not noticeable.
As you know the ViparSpectra PAR1200 is an indoor LED grow light system, which might bother some people if they don't have the indoor space.
There were complaints that LED bulbs aren't that durable, however, a 3-year warranty will make us trust this LED grow light system.
Other than these few minor cons, there are no major problems that customers experienced. In my opinion, it's still worth the reasonable price and a 3-year warranty is something we should trust.
Conclusion
Now that you understand the benefits of having LED grow lights, you can start planning your garden. Indoor growers of cannabis can use the VIPARSPECTRA PAR1200 to get the most out of their indoor garden.
The VIPARSPECTRA dimmable series PAR1200 will help you grow your cannabis indoors through any stage, and the good thing is that you can adjust the light spectrum to mimic the seasonal natural light.
It's not of the best LED grow lights out there, however, it's one of the most practical and affordable solution out there which comes equipped with many features that can be seen on more expensive models.
It's perfect for beginner growers, however, it's great for mid-tier growers as well. You just need to make sure that you have a ready plan for the indoor growing process, and that you understand the process of growing plants using the LED light that offers full spectrum needed in order to grow plants fully to their potential.
You won't miss by going for the VIPARSPECTRA dimmable series PAR1200 as it has all the necessary features and functions to grow plants indoor properly. You will also be covered with a 3-year warranty and you will be able to return the item within 30 days and receive a full refund if you experience problems or if you aren't satisfied with the product.
But judging by the cons, the product is really made out of quality materials, and it was designed and manufactured to achieve every single detail they've had in mind. It's an affordable yet still very functional and effective LED grow light.
Make sure you measure your indoor size and decide if one LED grow light will be enough.
What do you think about VIPARSPECTRA? Do you have any experience?
Feel free to share your opinion down below, but also feel free to ask any questions and I will be there to help.