(Last Updated On: December 12, 2022)
At some point in your life, you may end up needing protection for your eyes. It doesn't matter if you face direct sunlight or not, there are some lighting conditions that are harsh on the eyes.
So how can we protect our eyes?
Well, one of the best ways is by wearing glasses.
So, what eye protection is best for you while you work in your indoor garden? There are many glasses on the market today that make claims of being able to protect the eyes while you are in a grow room. Of course, some of these products are ineffective, but there are some really good products out there.
Of all the good ones we came across, we believe that the glasses reviewed in this article are some of the best models on the market today.
Regardless of the lighting conditions in your grow room, or the amount of UV light that your eyes are exposed to while you work in your indoor garden, we are sure that there will be a product here for you to consider. You may consider using a quality PAR meter to check the amount of light your plants are getting.
As an Amazon Associate we earn from qualified purchases made on our website. If you make a purchase through links from this website, we may earn a small commission from Amazon and other similar affiliate programs. You can read our terms of service .
Best Grow Room UV Glasses 2021
Image
Details
Prime
Check Price

Top

Top

Top

Top

Top

Method Seven Operator LED Grow Room Glasses

Prime

Eligible

Check Lowest Price

Top

Top

Top

Top

Method Seven Agent 939 LEDfx Full Spectrum LED Grow Room Glasses

Prime

Eligible

Check Lowest Price

Top

Top

Top

Top

Apollo Horticulture Grow Light Glasses for LED Grow Light Rooms UV400 Grow Room Safety Protective Eyewear for Intense LED Lighting Visual Eye Protection

Prime

Eligible

Check Lowest Price

Top

Top

Top

Top

Happy Hydro - HPS Grow Room Glasses - Blue Lens for Protection from HPS Lighting - UV Blocking Wrap Around Design

Prime

Eligible

Check Lowest Price

Top

Top

Top

Top

Grow1 GRUVE LED Glasses Grow Room Ultra Violet Eliminators

Prime

Eligible

Check Lowest Price
1. Method Seven LED Grow Room Glasses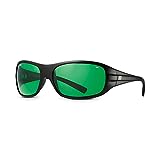 Like nothing else, the WORLD'S FIRST OPTICS optimized for LED lighting environments. The Operator LED provides exceptional COLOR BALANCING for LED lighting with our proprietary lenses manufactured by CARL ZEISS VISION
Method Seven Signature CARL ZEISS LED polycarbonate lenses are durable, light, color-corrective, and protective under LED lighting. FLASH SILVER COATING provides a mirrored look and helps shield from excess light.
Method Seven premium lenses are asymmetrical to ELIMINATE DISTORTION that occurs with typical value eyewear with a curved lens.
SEE THE DIFFERENCE and treat yourself to QUALITY with the FIRST & BEST GROW ROOM GLASSES in the industry designed by Method Seven an OPTICS TECHNOLOGY company. Includes Microfiber Spectrum Art pouch that doubles as lens cleaning cloth.

All grow room glasses are not equal and these Method Seven LED Glasses are certainly superior to many. Because of how they are designed, you will not have to worry about eye fatigue or eye strain while you wear them.
With these glasses, you won't have to squint anymore. Plus, the lenses are designed so you will have a very good view of anything you look at. As a bonus, there is even a microfiber pouch that you can use to clean the glasses when they get dirty.
Features
· 100% UV protection
· Optimized for LED lighting
· Color corrective lenses
· Eliminates distortion
· Silver coating
· Shields the eyes from excess light
· Comes with microfiber spectrum art pouch that doubles as a lens cleaner
Summary
Method Seven is well known for their grow room glasses, and this version is one of the best on the market today. Yes, these glasses are a bit pricey, but they are also quite durable and the clarity and protection that they offer is truly spectacular.
If you are looking for glasses which are durable enough to last you for a very long time, but effective enough to protect your eyes, make sure you put these ones on your list of options.
2. Happy Hydro Grow Room Glasses with Interchangeable Anti-Glare Lenses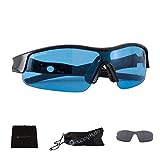 FOR HIGH PRESSURE SODIUM (HPS) LIGHTING – Happy Hydro grow room glasses are engineered to help both small-scale and commercial growers get the most out of every single harvest. Our blue lenses filter harsh wavelengths and offer premium protection from HPS lights. Check out our green lens version for LED lights!
100% UV PROTECTION in a lightweight half-jacket frame. Protect your vision from harmful UVA, UVB, and UVC light without sacrificing comfort or clarity. Green lenses color-balance for popular commercial grow lights giving you true-to-life vision of your grow.
WRAP-AROUND DESIGN provides superior coverage with close-to-face protection. Molded comfort fit frames allow you to wear them for hours without undue pressure on ears or bridge of the nose.
NONE OF THE DISTORTION that lesser-quality lenses have. Premium asymmetric lenses minimize eye strain and diminished vision that leads to headaches, while giving you an accurate view of your plants.
PROTECT YOUR INVESTMENT by cleaning and storing your Hydro Happy LED Glasses in our soft, dual-purpose microfiber carrying pouch. These stylish glasses are suitable for use by both men and women.

Growing plants in a hydroponic environment can take a toll on your eyes, but these glasses can prevent all that devastating damage. Happy Hydro Grow Room Glasses have an anti-glare coat on the lens and they provide a very clear image of your surroundings.
More importantly, you can use them in different light settings as they protect the eyes from UVA and UVB rays, plus much more. the design of the glasses also makes them very comfortable to wear.
The wraparound design even extends the protection that they offer your eyes, as well as the comfort level.
Features
· Interchangeable lenses
· Daylight spectrum vision
· Wraparound design
· Durable construction
· 100% UVA and UVB protection
· Superior optics for higher level of comfort
Summary
Protective and stylish are just two ways to describe these glasses. With their incredible design and durable construction, your eyes will remain protected, no matter what type of lighting you have in your indoor garden.
You can even change the lenses that you purchase in these glasses so you can get protection from other types of lighting.
3. Apollo Horticulture UV400 LED Hydroponic Grow Room Glasses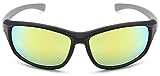 OPTIMAL EYE PROTECTION: Superior indoor protective hydroponics glasses designed for working under a variety of hydroponic grow lights – Green lenses designed for use under HPS, MH and LED lighting systems. Meets ANSI Z87+ and CSA Z94.3 safety standards.
PROTECTION FROM ALL ANGLES: Wrap-around style glasses provide all-around protection. Super lightweight design gives you hours of long-wear comfort while working in your grow room, greenhouse, or growing space. These glasses sit close to your face and do not obstruct your view. NOTE: These glasses are NOT suitable to wear over your regular prescription glasses.
100% UV BLOCKING: Blocks all UVA and UVB rays and protects your eyes from infrared wavelengths, glare and reflection. Reduce eyestrain and alleviate the pain from harsh lighting.
CUSTOMER CARE: Your Apollo Horticulture Grow Room Glasses are backed by our exceptional customer service team and comes standard with our 90 Day Money Back Guarantee and a limited 1-year warranty. BONUS complimentary glasses pouch included.

Do you want to protect your eyes from all angles? You should try these Apollo UV400 LED indoor Grow Room Glasses. They have a wraparound design that helps them fit around your face comfortably as well as give your eyes more protection.
As the name suggests, you will receive a lot of protection from UV rays while wearing these glasses, but it also protects your eyes in many other types of lighting.
Features
· Optimal eye protection under various types of lighting
· Green lenses
· Meets CSA Z94.3 and ANSI Z87 safety standards
· 100% UV protection
· All-round eye protection from wraparound design
· Does not obstruct view
· Limited 1-year warranty
Summary
You don't have to spend a lot of money to get glasses that can protect your eyes while you work in your indoor garden; these very well-designed and effective glasses are proof of that.
They reduce eye strain, prevent eye fatigue and protect your eye in all sorts of lighting.
4. Apollo Horticulture AHFR Cultivator Hydroponic Grow Room Light Glasses

Apollo Horticulture AHFR-Cultivator-1 Indoor Hydroponics Grow Room Light Glasses Goggles Anti UV, Reflection, Glare Optical Protection
If you don't have a big budget to work with but you are looking for glasses that are just as effective as those expensive versions, make sure you check out these Apollo AHFR Grow Room Glasses.
They are able to prevent a lot of glare from all types of lights and they block UV rays that can cause damage to your eyes. Most of all, it is a very affordable product. You won't have to break the bank to purchase it, and it is still very durable.
Features
· Reduces eyestrain even in low lights
· Alleviates glares and blocks UV rays
· Meets CSA Z94.3 and ANSI Z87 safety standards
· Suitable for using in MH & HPS lighting
· Doesn't prevent clear vision
· Limited 1-year manufacturer's warranty
Summary
Affordable, functional and durable are all very accurate terms that you can use to describe these glasses. It is a very good product for you to use while you work in your indoor garden regardless of the type of lighting that you use.
Another great thing about these glasses is that you get a 90-day money-back guarantee if they do not meet your expectations.
5. Grow1 GRUVE LED Grow Room Glasses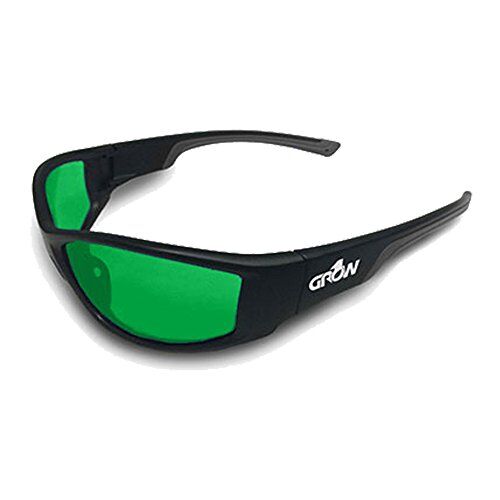 Grow1 Gruve LED Grow Room Glasses
Wearing glasses in your grow room is very important and these Grow1 GRUVE LED Glasses can help protect your eyes. LED lighting can have a very negative effect on your eyes, and these glasses are very effective in preventing this type of damage.
In addition to this, you can use them to reduce eye fatigue. Squinting will be a thing of the past once you wear them. Plus, they will not distort your vision as they allow you to have a very clear view of your surroundings while wearing them.
Features
· Reduces exposure to harmful rays
· Increases eye comfort in different types of lighting
· Offers UV protection
· Very good fit for many face types
· Provides a very clear view of your surroundings
· Prevents eye fatigue
Summary
If you want to prevent discomfort in your eyes and lessen eye fatigue, these glasses are a great option for you. They are not expensive and they are made from very durable materials so they can last for a very long time.
What Is UV Light?
Most people are aware that UV light can cause skin cancer and put on sunscreen lotion when they are out side. What they are not aware of is UV light can damage their eyes and should take measures to protect them as well.
How does UV light affect eyes?
UV light can damage your eyes, affect vision and your overall eye health. The following conditions could happen as a result of UV exposure:
Macular Degeneration. Macular Degeneration (AMD) is caused by damage to the retina over time and is the leading cause of age-related blindness. Extended exposure to UV light increases your risk of developing macular degeneration.
Cataracts. A cataract is a clouding of the eye's natural lens — the part of the eye that focuses the light we see. UV light, especially UV-B rays, increases your risk for certain types of cataracts. It is estimated that 10% of all cataract cases are directly attributable to UV exposure.
Pterygium. Often called "surfer's eye," pterygium is a pink, non-cancerous growth that forms on the layer of conjunctiva over the white of your eye. UV light from the sun is believed to be a factor in the development of these growths.
Photokeratitis. Also known as corneal sunburn or "snow blindness," photokeratitis is the result of high short-term exposure to UV-B rays. Long hours at the beach or skiing without proper eye protection can cause this problem. It can be very painful and may cause temporary vision loss.
Who is at Risk?
Anyone that doesn't protect against UV light. If you are not using eye protection while attending your indoor garden try to minimized your exposure. Some things you can do are to turn off your LED lights off while you are in the room.
For some this not an option and the only choice is you roll the dice or buy UV eye protective glasses. Glasses are cheap compared to what could happen if you don't protect yourself.
Conclusion
With so many amazing options, it is difficult to select one product that is totally superior in quality all around.
However, if we had to choose one set of glasses, it would have to be the Happy Hydro Grow Room Glasses. Why?
It has a very unique feature—the interchangeable lenses. Since you can change the lenses to get protection from other types of lighting, and the glasses are not very expensive, this product seems to be one step ahead of the others.